May 4 & 5, 2011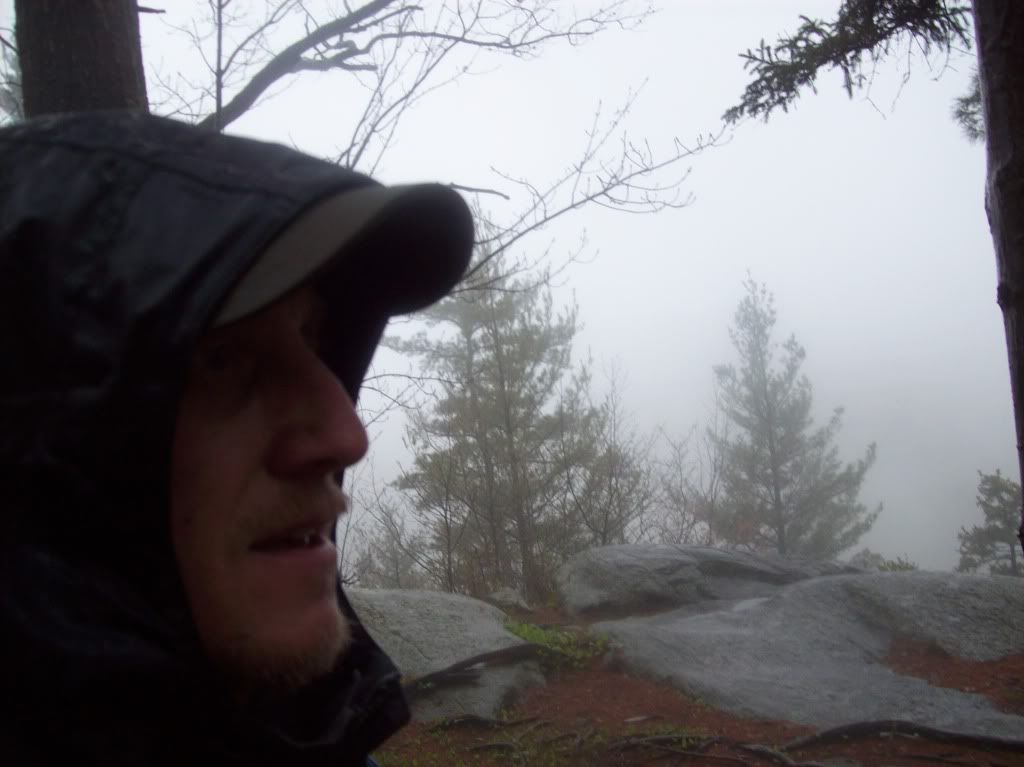 This adventure was to intentionally backpack in the rain. With a different mental approach towards rain, I found that if I accept it as it is, a part of nature, that it's not so bad. I actually found the forest to be a different place. A beautiful eerieness...so full of natural life. I'm not talking about birds chirping away or jumping a deer or even impressive unlimited views. I'm talking about the rich dense fog that was my backdrop hindering my views...the sound of the rain hitting the forest floor...the glistening of water droplets on the new Spring flora...the little streams and brooks that swell, intensifying the overall ambiance.
I decided at the last minute on where I wanted to go. With a Presidential Traverse planned for June, I thought that a trip to Clarendon shelter would be my best workout. I hit the trail at about 3:30pm. It was raining steadily but no significant wind. I crossed a nice pasture which held some water but soon I was in a short woodland. The trail was in good shape, the waterbars were fairly clear and doing there job. Thanks GMC Killington! After crossing a powerline and re entering the forest, the trail starts to ascend to the base of a boulder filled ravine. Probably the closest place around here (at this altitude; remember, it is mud season and the upper trails are off limits. Killington Spur is pretty intense) that has some rock scrambling. It took me about 30 minutes to get to the top of the ravine. I took my time going up stopping to check out the Trilliums and the underground brook that flows underfoot (the above video). Once on top, I was already half way to the shelter and I had plenty of time to trek back down and climb it again. So I did. I want to be in shape so the Presi-Traverse will be more enjoyable instead of gruesomely brutal. I took a short break at Clarendon lookout before I continued on. The rest of the hike was fairly easy, traveling through the hardwoods just enjoying my surrounds. The trail was impressively dry with only a few wet areas. Before too long, I reached my destination.
Once at the shelter, I dropped pack, changed shirts, and started to set up camp. I worked on getting a fire started which took me some time due to every piece of wood in the forest was wet. But I paid attention in the boy scouts and have never had trouble getting a fire going. Once established, I kicked back and had a beer. A Long Trail Brew Master Series Coffee Stout. Simply delicious. After a while of just being, I had some dinner; chicken Alfredo. It's rare for me to bring foods that I have to cook but it was well worth it. I'm usually a freeze dried meal culinarian. Once dark, my belly full and the spirit of my beer still hanging on, I decided to go for a short night hike. The rain had subsided some and was more of a mist with some snow flurries. I found an old stone wall and followed it for about a half a mile. It still amazes me that the fact that folks way back when hand built these walls. Back breaking work. Once I got back to camp, It was time to crash. The first night in my new tent and sleeping bag. The sound of light rain quickly slammed me into a deep slumber.
I woke up after a good rest at about 6:00am due to a heavy rain...I lied there just listening to the drops. I was amazed on how dry my tent was; no humidity, completely dry and cozy...the bag was nice and toasty too. I fell back asleep until 9:30am. After I finally woke up, I had a coffee, cooked some breakfast and broke camp. At 11:15am I hit the trail and headed back.
I now have a better understanding of the rain. It's totally different backpacking and staying in it compared to day hiking in jeans and a hoodie while it's raining.
Note: This slide-show is backwards and for some reason is not reversible.